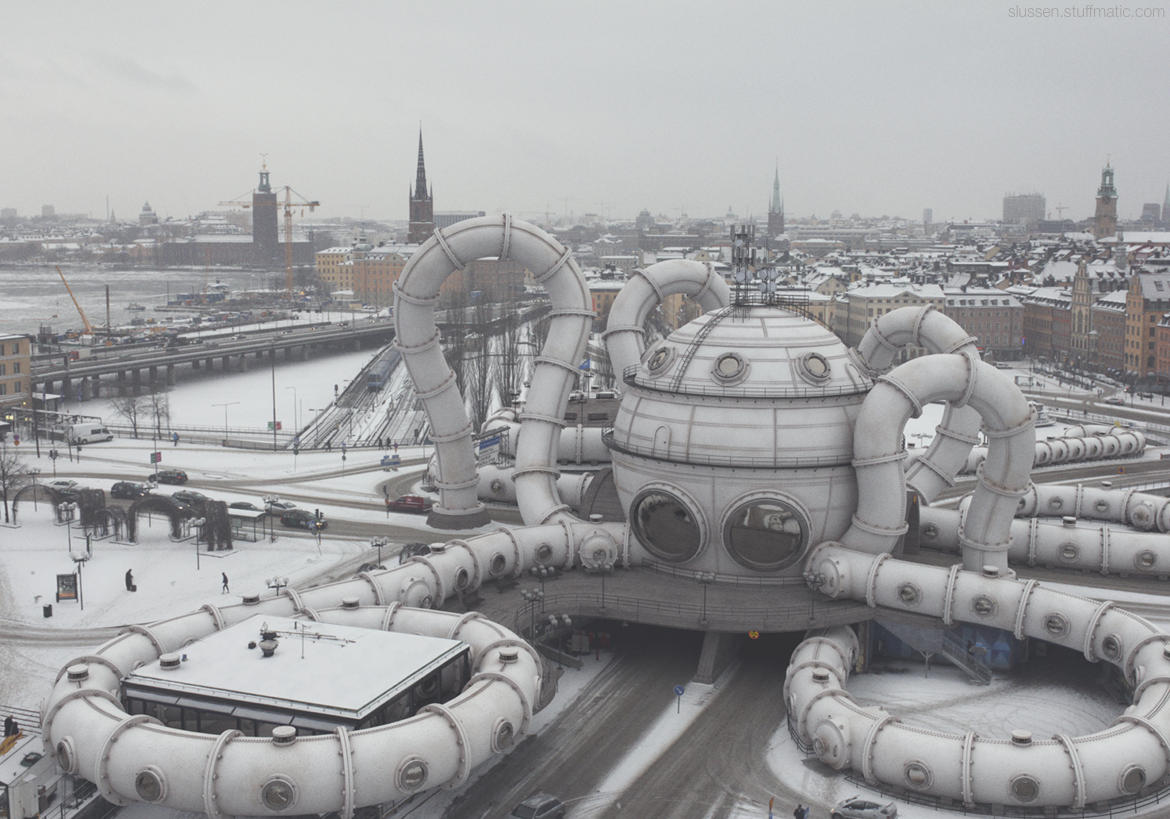 Slussen plan C
Slussen Plan C
---
Over the last couple of years, great resources have been spent to come up with a plan for the future of the Slussen area in central Stockholm. Despite the efforts, the citizens of Stockholm have not yet been offered the solution they deserve. This is why we have developed Slussen Plan C, that combines form and function and gently pushes Slussen into the future.
An elegant steel construction embraces and extends the existing cloverleaf interchange. The different parts of Slussen are connected by heated pedestrian walkways and intermingled with the light organic shapes are observation decks, cafes and a two lane tunnel.
Stora resurser har de senaste åren lagts på att utarbeta en plan för ett framtida Slussen. Trots detta har man ännu inte kunnat erbjuda stockholmarna den lösning de förtjänar. Mot bakgrund av detta har vi arbetat fram ett förslag som förenar form och funktion och som varsamt för Slussen in i framtiden.
En elegant ljus stålkonstruktion omsluter och kompletterar den befintliga fyrklöverformade trafikapparaten. Slussenområdets olika delar knyts samman av uppvärmda gångpassager och bland de svepande organiska formerna förenas bland annat utsiktsterrasser, uteserveringar samt en tvåfilig tunnel för fordonstrafik.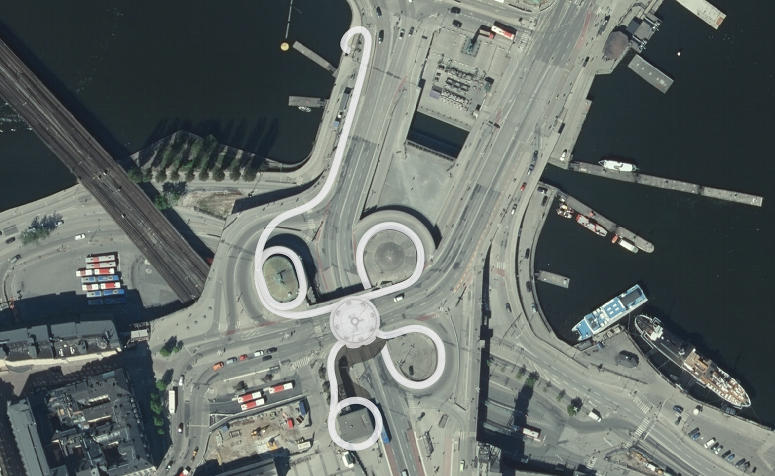 Respectful preservation

Respektfullt bevarande

Till skillnad från andra föreslagna lösningar, så ligger fokus för Slussen plan C på respektfullt bevarande. Existerande bebyggelse, såsom restaurang Strömmen och det anrika Kolingsborg, bevaras i sin helhet och omfamnas diskret av lätta stålformer.

As opposed to other presented solutions, the main focus of Slussen Plan C is respectful preservation. Existing buildings, such as the Strömmen restaurant and the historically significant Kolingsborg are entirely preserved and discretely embraced by light steel shapes.

A timeless landmark

Ett tidlöst landmärke

Den sammanbindande kupolen, med sin tydliga arkitektoniska särprägel, utgör tillsammans med de rumsbildande gångpassagerna en identitetsskapande helhet. Förutom en väl genomtänkt trafiklösning så erbjuder Slussen plan C även ett karaktäristiskt inslag i en framtida stockholmssiluett.

Together with the space defining pedestrian walkways, the central dome with its distinctive architectural character forms a whole that defines the future identity of Slussen. Not only does Slussen Plan C offer a viable solution in terms of transport planning, but also adds a unique and refreshing component to the Stockholm skyline.

Humans first

Människan i centrum

Slussen plan C sätter stadens människor i centrum. Uppvärmda gångpassager med robusta dörrar erbjuder skydd mot väder och vind samt medger smidig transport mellan slussenområdets olika delar. Genom de generösa fönstrena kan flanörer blicka ut över bland annat Riddarfjärden, Djurgården, Gamla stan och Söders höjder.

Slussen Plan C puts human beings first. Heated walkways with robust doors offer protection from the sometimes harsh Stockholm climate and allow for easy access to the different parts of the Slussen area. The generous windows offer pedestrians scenic views of Riddarfjärden, Djurgården, the old town and the hills of Södermalm.
Pressbilder
Om du är intresserad av högupplösta pressbilder så är det bara att höra av sig!
High resultion press images
If your are interested in high resoltuion press images, don't hesitate to ask!
Visa ditt stöd!
Brinner du för Slussens framtid och vill sprida budskapet om Slussen plan C? Du kanske har ett café eller något annat offentligt utrymme där budskapet skulle kunna spridas? Hör i så fall av dig för att diskutera affischer och annat kampanjmaterial.
Support the cause!
Do you feel strongly about the future of Slussen and would like to spread the word about Slussen Plan C? Perhaps you know of a cafe or some other public space suitable for displaying posters and other campaign material? Then get in touch!